Introduction

Like most things in life, the world of video games is divided up into subsections. Saying you are a gamer is like saying you are an engineer; it gives the listener an idea of what you do, but does not tell them specifically what you do. To learn that, they have to ask.

Until recently if you asked me, I would have replied that I game on all platforms -- except iOS that is -- because until two weeks ago the only iOS devices that I owned were my iPhone and my ancient iPod, which are devices that I do not game upon for very good reasons...

My iPhone is game-free because it is my communications link to the world and work, and I need to be always available with adequate power in its batteries to allow me to take and receive calls. My iPod is used almost exclusively for listening to music and to the many audio books in my library, but largely due to its small screen size, I ordinarily do not game upon it. Simple and reasonable reasons all.

The point of this actually has nothing to do with the iPhone or the iPad except peripherally -- you see part of my duties and an obligation of my profession is the reviewing of video games, and iOS games (specifically those made for the iPad) represented a venue that I was not covering because why? Because I did not own an iPad, that is why!




While I am reasonably certain that the iPad is not imbued with magical time-stretching abilities, and while there really is an app for almost everything, I have so far been unable to find a time travel app, and as my personal experience has revealed that there is not enough time in the day for me cover all of the games and subjects that I am already obligated to cover as a newspaper columnist, a freelance writer, and the arbiter of all things Tech, but not having the ability to cover iOS games rankled.

Which is why, a few weeks ago, when I was approached by one of the many editors to whom I report to and from whom I routinely receive assignments, I was pleased to be able to say that yes, indeed, I would be happy to review that game now that I have anticipated the delivery of my new iPad!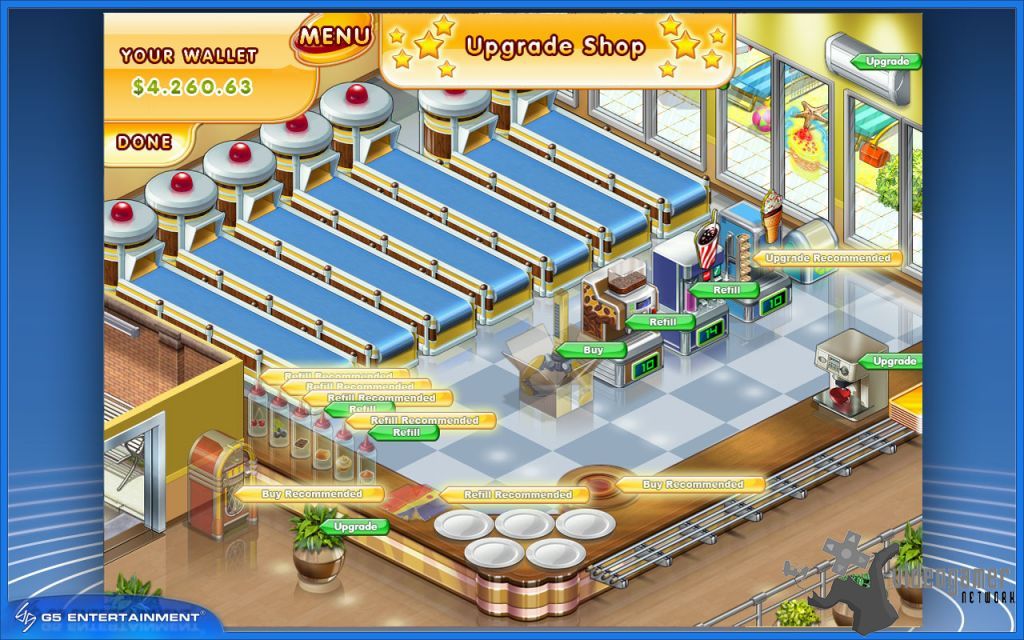 When it arrived I took special care in the opening of the iPad box, carefully reviewing the contents and following the detailed instructions contained within the pages of the small booklet found inside a small box inset into the packaging. First I connected the device to my notebook via its distinct white USB cable and activated it, whereupon I was prompted to provide the identity and authentication information for our office WiFi network (which I did), and thus allowed my new iPad 2 to fully patch its iOS.

The instructions indicated that I needed to leave the device plugged in to obtain a full charge for the batteries before I could use it for the very first time, so I left it sitting upon my desk charging, and my colleagues walked past, pausing to admire it. The version that I had received was the white and black model, which I have to admit I find to be aesthetically far more pleasing and appealing than the black on black model...

Mostly ignoring the iPad, I continued with my normal work routine until, a few hours later while I was reading my email I was surprised to discover a message from a PR with a review code for an iPad game. "This must be serendipity" I told myself, marveling that a new game should arrive in my inbox for a platform that until that very day I did not cover, and on that very day -- nay, within minutes as it turned out when I examined the time stamp on the message -- of my receiving the iPad 2 delivery!

With fumbling fingers -- I had yet to grow comfortable with this new device and was convinced that I was holding it wrong. A few deft finger pokes and I was at the App Store. Another series of pokes at the on-screen keyboard and the code I had received was now working its way through the magical wireless byways of the Internet, and low! A game was now being downloaded!

I freely admit that the awkward size of the iPad is still an unaccustomed shape in my hands, though even then the convenience of having the screen be where I wanted it to be at any given moment increasingly appealed to me. On previous business trips I recall seeing passengers pulling out their iPads on flights and thinking to myself, how silly! That was before I had one to pull out myself of course, but now I was starting to get it.

According to the small icon on my screen with the rapidly filling status bar it was a game called Stand O' Food 3 and, while I admit to a certain level of ignorance with respect to the game having never played it before, logic dictated that it probably involved food... And stands... And it was the third game in the series. Yes, I am smart that way.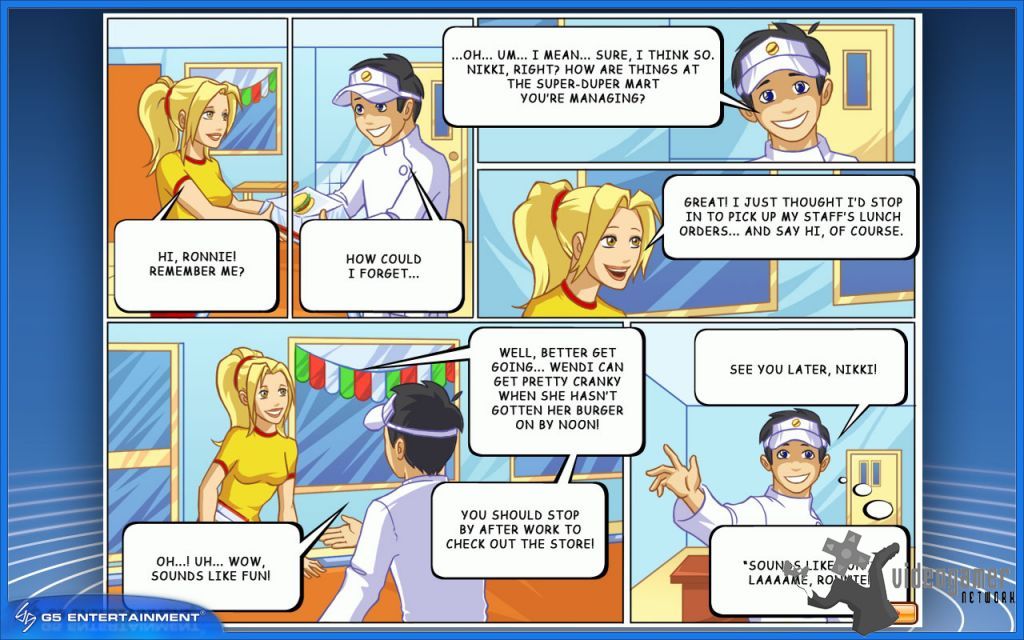 When the download was complete, the game installed itself and a simple tap upon its icon loaded it, and I found myself looking at the healthy and happy face of a young man in chef's whites holding a plate loaded with a cheeseburger -- I can has cheeseburger?

The main menu includes a variety of choices, with Play at the top followed by selections labeled Cookbook, Options, Help, Awards, Hall of Fame, Credits, and Tell a Friend, a button to change players, and one to download the original game that established the series -- Stand O' Food. While I took in these choices a snappy and upbeat soundtrack played in the background, and a view of the restaurant snugly ensconced in the center of what I took to by urban Los Angeles greeted me, with birds flitting around in the sky and a happy pair of customers noshing on their food at an umbrella-covered table outside. In short, it was an idyllic scene of fast food goodness!

The button for downloading the original game took me to the App Store page for it -- it was not a free download, the price tag on it a reasonable $4.99 but, considering that I had yet to play the game I had, I felt no qualms about putting off any new acquisitions for the moment. Since I was there anyway, and having already admitted my ignorance when it came to details about this particular game, I went ahead and hit the button to load the developers page on the App Store, and before you can snap your fingers I was looking at a list of all of the games created by G5 Entertainment, among which was the current one I was in the process of evaluating.

Tapping the button for Stand O' Food 3 took me to its product page, where I learned that the game included 75 levels and the opportunity to improve and upgrade your restaurant, and in so doing improve the level of and quality of service enjoyed by the customers while at the same time increasing the potential for profits for me -- the owner of this chain of healthy fast-food noms.

The chef and owner of the biz is named Ronnie, and the genre of the game is 'Time Management' which in addition to sporting the aforementioned 75 levels also includes 90 recipes to master, 18 special sauces, and a variety of extras to sell that includes pies, fries, soda pop, and ice cream to name a few!

It turns out that G5 Entertainment specializes in Time Management and Hidden Object games and gaming, and has a very wide selection of games in those genres available on the App Store, and the games -- including Stand O' Food 3 -- are highly rated by the users, with praise-filled comments at the bottom of the page that included approval of the memory-building side of the game as well as its overall entertainment potential. In a nutshell we were off to a good start, but would I find the game to be as fun and addictive as the other gamers did?


Game Play

Time Management games are about accomplishing a set of defined goals while a timer is running -- the faster that you accomplish them, the higher you score, and of course the more accurate your work, the more points and, in this case, money you receive as part of the reward for playing. In the world of Stand O' Food 3 game play takes the form of an employee (you) manning the food service facilities behind the counter at your restaurant, where a series of conveyor belts holding the various ingredients for the food items on the menu reside and using these, you fill the orders of the customers who line up at the counter.

If it were as simple as it sounds, it would all be a matter of simply tapping the correct objects and that would be that, but of course it is a bit more complex and challenging than that! First there is the number of conveyor belts -- in the first level there are only two, but as you master each level you end up with more, and in addition to that, the food ingredients are often not laid out in the optimal order for the filling of the recipes, which makes it necessary for you to do a little figurative juggling of resources using one of several tactics available to you.

If you have the extra money available to you, you can lay in a stock of cardboard burger boxes that can be used to assemble the food in any order that you like -- the customer will pay and leave unaware that you have, for example, but the top of the bun on the bottom, the bottom of the bun in the middle, and the meat on top, and failed to add the sauces that they wanted! Of course they have left before they discover that so you still get paid by a satisfied customer! Now that is accurate like real life because we have all been there, yeah?

An alternative to putting the screw to the customer is to purchase plates you can place on the end of the counter to temporarily hold ingredients that are out of order, thus giving yourself the option to properly built their sandie, and as you earn more money, you can expand the menu by purchasing and stocking a deep frier for pom frites, an ice cream machine for soft-serve ice cream food products, and a soda fountain machine for selling soft drinks! Bonus!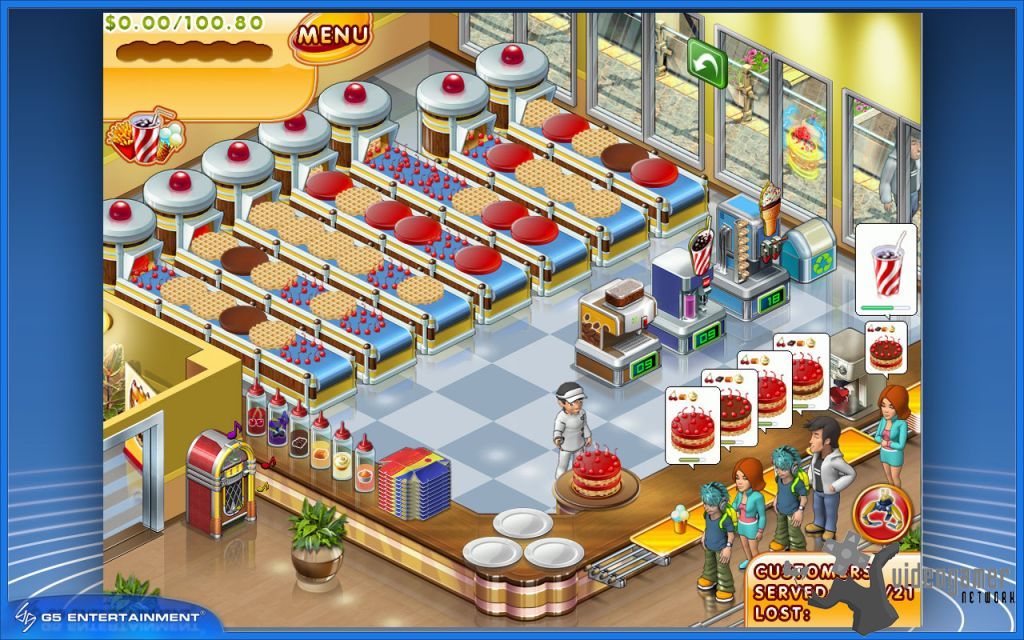 There are other options for expanding your restaurant, from objects and facilities to menu items like sauces and special condiments, and in addition to the standard build-a-sandie style of play there are other modes, like a double set of conveyers that you use to rapidly serve sandies to the customers who line up at them, but you also have to keep an eye out for plates that they send back to you on the same conveyers so that you always catch them before they can fall to the floor at the end and break, thus costing you money.

Time management is also about time efficiency and maintaining inventories of the items that you need to have and that your customers want -- like sauces -- and the mixture of these elements in this game is a clever combination that is at once entertaining and challenging!

Success in play leads to profits that allow you to expand your services and menu, as well as offer the customers an attractive and fun environment in which to dine, but behind the scenes in addition to all of that you will find that your eye for detail and abilities to properly serve the customers are often rewarded by you being personally awarded! Yes, that was a bit of a tongue-twister, but what I am talking about is a set of Achievements that you unlock by getting and staying good at the game and your job.

The Achievements include awards for Sauce Novice for preparing 10 products with the appropriate sauces in a row, Match Master for selling 10 products with the appropriate snack items in a row, Layin' it Down, for preparing 10 triple-layered products in a row, and Short Order Chef, which is awarded for preparing 10 double-layered products in a row -- all of which are not only displayed on the in-game awards page, but can be shared with your mates by posting the accomplishment to your Facebook news Feed with the simple press of a button in-game!

When you complete a level and do well you are not only awarded with a color-based star for the doing of it, but at strategic points you also unlock new menu items like Lasagna, and new store locations with different or more complex service options and challenges, which means that even though the basic concept of game play is similar, each new level offers something different for you to do, and for you to master, as part of its challenge.


Observations and Conclusions

Stand O' Food 3 easily reminds me of the type of games that we used to play in video game arcades back in the 1980's, before the Internet and home game consoles -- or for that matter the PC itself -- changed the way that we gamed. The colorful world with its snappy and upbeat soundtrack when it is combined with the frenetic game play mechanics and built-in challenge of managing multiple events on screen while facing down the always present timer when it is all combined is both a blast from the past, a trigger for good memories, and a new gaming entertainment experience all rolled into one.

The iPad is a unique platform to game upon, especially considering its easy mobility. Much of the time when the opinion comes from gamers who have never experienced what the iPad has to offer, you will hear comments like preferring to game on notebook PC's when mobile or portable gaming is the subject, but that just illustrates that the gamer has yet to experience the convenience of the iPad, its light weight and almost instant-on presence. While this game is fun, it is all the more fun because of the platform that it is being played upon, and that bears consideration.

The Time Management game genre has wide appeal, especially due to its strong support of drop-in drop-out game play; it is convenient to be able to play in small bites of time, and not having to worry about walking away from a game in mid-level, which is something you can do here with little concern over your status in the game. As you build familiarity and confidence in the game the puzzle-like elements add to the fun, but it really is not until you build the sort of confidence that has you creating complete orders with 100% accuracy and lightning speed that the fun potential is fully revealed!

Like most of the games offered by G5 on the App Store, Stand O' Food 3 includes a free trial version download that allows gamers to get a definite sense of what this game is about and how it plays, and like all properly constructed approved apps, it allows gamers to purchase and install the full version from within the app, making the transition from the first few levels of the free version to the 75 levels of the paid version ($4.99 for iPad, $2.99 for iPhone) a snap.

Stand O' Food 3 may have been the perfect first app for me to review on the iPad as it showcases some of the best features for that device -- and while it is not a perfect game, Stand O' Food 3 does provide one of the more entertaining light-gaming experiences I have had in a long time -- and not just on an iOS device, but in all of the platforms that I regularly game upon! Its simplicity when combined with its intuitive game play and easy to follow goals makes this one quite addictive, entertaining, and fun -- which is in short pretty much everything you can ask for in an iOS game.

After spending more time than was probably warranted playing this -- and noting that I am not done, as this one has managed to gain a solid place in my game play rotation list for commuting -- I give Stand O' Food a very respectable 8.5 out of 10, and a BUY rating. It is worth every penny of its low admission price and then some.


---

Official Title: Stand O' Food 3
Developing Studio: G5 Entertainment
Publisher: G5 Entertainment
Release Date: September 15, 2011
Platforms: iOS / Windows PC / MAC
Genre: Time Management
Ratings: E (for Everybody)