Ben 10: Galactic Racing Preview
By: CM Boots-Faubert
Posted 8th Oct 2011
First Page
In the world of video games journalism there exists an element that is particularly interested in the tracking of trends. That doesn..
Game Play
If you are a fan of the Ben 10 series you will recognize many of the characters in the game -- there is the to-be-expected character of protagonist Ben Tennyson (Ben 10) as well as his friend Kevin E. Levin who can be chosen as racers, and there is also his arch-nemesis Vilgax, an alien of nasty and dull parts, but what would the game be without him? In addition to this trio of obvious choices, there is also the choice of 13 of Ben's aliens for you to play, and of course there are new characters like the alien racer "Fast Track" to meet and get to know as well.

If you are wondering why the characters are a central focus in the preview, it is because they each are endowed with their own special talent or ability, which you can leverage when you race as them, so that in addition to taking advantage of the power-ups that are encountered on the tracks as you race, you can also influence the outcome of the entire race through the use of those abilities. That is an interesting choice on the part of the developer, and one that could just as easily gone bad if less than strong attention was paid to the balance of these powers, but from what we saw, that is not an issue at all in the game.

The story presented here is a simple but eloquent one -- every 1,000 years the aliens in Ben 10's universe -- which if we examine the cartoon at present includes 10 alien civilizations that we presently know about who come from five planets so far discovered -- and that is the story in a nutshell! Which is a good thing, because after all this is a kart racing game (sort of) and you do not need (or want) five acts and a deep plot for that, do you? Of course not!


The game is built from over two-dozen tracks, each sporting a selection of a dozen power-up items, and includes over 15 characters (as mentioned above) who race through two modes, Racing Mode and Battle Mode. Now we were not shown the Battle Mode, but from what we understand it is really just a straight-away pound the other racers with your kart, weapons, abilities, and power-ups as much as you can sort of deal.

The Racing Mode is very active and entertaining -- and it got even more entertaining when we learned that during jumps you could actually pull off tricks in the air by using the Right Stick, which results in recharging your power bar, which is in turn used for activating your abilities in order to do a little dirty to your competition, and so on. The second meter on the screen is the Defensive Power meter, and you refill that by drifting, so that once it is charged up you can trigger defensive shields to prevent the competition from unleashing their ability on you!

Pretty standard for this sort of game is what you are probably thinking -- and it is -- but then again, the powers that you are unleashing are the powers that each character has from the cartoon, which means that fans of the cartoon are going to be playing in character, and sometimes that more than makes all the difference with a video game.

Observations and Conclusions
Often when you go with your gut, you end up the better for it, and my gut told me to go with the Intern's gut, and I was happy that I did. Say what you like about the cheese factor for cartoons being translated into video games, there is plenty to be excited with in this one, and the combination of retaining the cannon from the show and applying it strategically in the game is a winning one.

There were times in our game play when we thought that the AI was maybe a little bit less I and more A than it should be, but as that is the only complaint we could find in our play, this game is already one-jump ahead. Track design in the game is clever and well done, giving the player optional alternate routes that have both advantages and disadvantages to them. The shorter route may be shorter, but it is also trickier and presents more opportunities for you to make mistakes that spin you out, crash you, and in the end, eat away more time than you would have used up if you had taken the longer route... But when you make a clean run through them, you are way ahead of the pack!

It is that sort of trade-off that, combined with the different abilities and power-ups, turns this into more than a simple racer, but a strategy racer that clearly rewards players who both understand the elements and know when to use them. It is, in other words, a level of sophistication we were not expecting to see.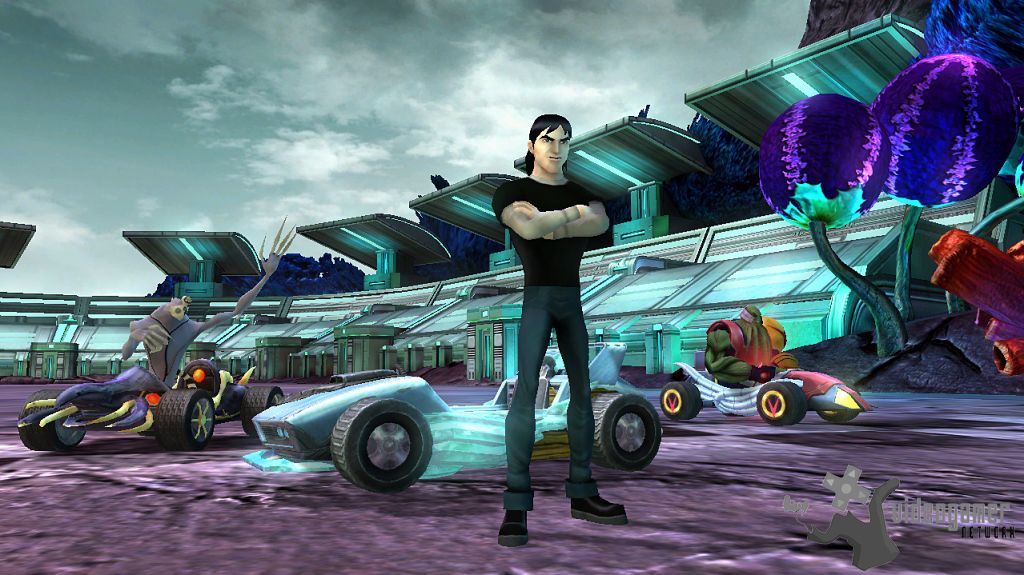 The game is coming out an pretty much all of the platforms -- though the version we demo'd was the Xbox 360 one, and we expect that the handheld version will be a very different game play experience from it, we can easily imagine it having as much entertainment packed into it as the version we played, so hey, win-win!

Ben 10: Galactic Racing is due to arrive in gamer hands on October 18th, 2011, and is appearing on all of the main consoles as well as both the Nintendo DS family and 3DS.


---

Official Title: Ben 10: Galactic Racing
Developing Studio: Monkey Bar Games
Publisher: D3 Publisher
Release Date: October 18, 2011
Platforms: Xbox 360 / PS3 / Wii / NDS / 3DS
Genre: Racing
Ratings: RP (Presumed T for Teen)
First Page
In the world of video games journalism there exists an element that is particularly interested in the tracking of trends. That doesn..